There are heaps of posts about Zoom settings for online music lessons. Y'all don't really need me to add another one, but it's helpful to have the info right here, all in one place! Feel free to bookmark this page if you need.
As many of us have discovered, Zoom wasn't designed with music in mind. In fact, Zoom's default settings tend to distort or mute music, thinking it's "background noise" - when we all know music is the reason we're on Zoom together! You may have seen some of my recent studio upgrades in order to deliver the best sound possible from my end - and I'd like to help you get the best sound possible back to me! There are few moments more frustrating in a Zoom lesson than when a student finishes playing a piece and is very proud of their efforts and I heard...three notes, because Zoom auto-adjusted the incoming audio. Without further ado, let's dive into some easy settings you can use on your end to ensure I can hear everything you play beautifully:
Download the Zoom app on your computer (not phone or iPad)
This is a simple step, but allows you to adjust the settings for music - mobile devices don't have the advanced setting options. Make sure you keep the app up to date for best results.
Adjust Zoom Settings
In the app, click on either Settings under your profile picture, or Preferences under the Zoom tab at the top left (depending on what platform you're using)
Click the Audio tab
Uncheck the box next to "Automatically adjust microphone volume" under the microphone settings. Even this one step helps a bunch!
Under "Suppress Background Noise" click "Low"
Under "Music and Professional Audio" you have a list:
Make sure the "Show In-Meeting Option to Enable Original Sound" box is checked to on. This is what I do since my internet connection is not always reliable. I highly encourage this option for everyone! 
"Hi Fidelity Music Mode" is great, but my internet is not strong enough to handle it, so I leave this box unchecked. If you have a very strong - or ethernet-wired - connection, feel free to enable this option.
Check "Echo Cancellation" to make sure it's enabled if you're not using headphones. I am now using headphones in my studio, but most students are not, so make sure this is checked, so anything I say or play doesn't come back through the speakers.
You can check "Stereo Audio" if you want, but it's not required.
Your settings should then look like this: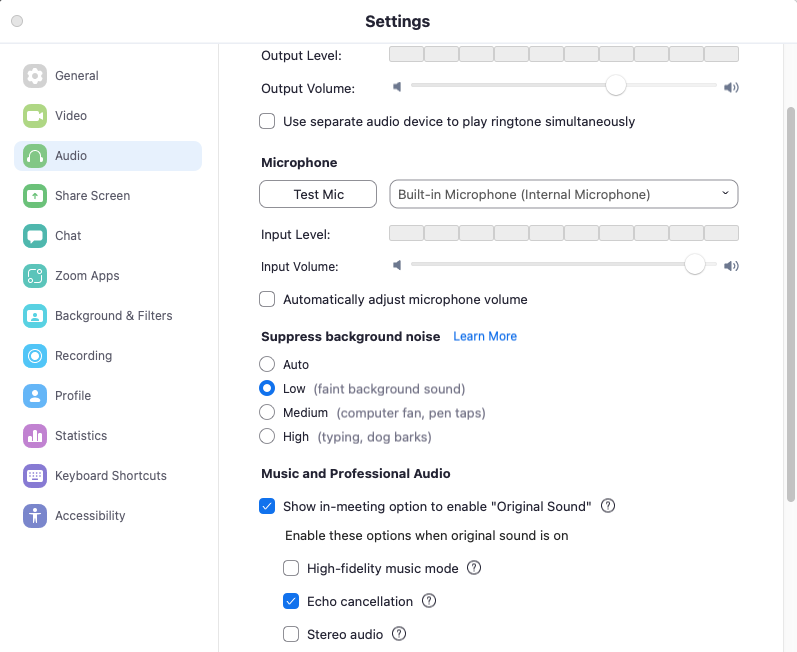 In the Lesson
Once you're in the lesson make sure to click the "Original Sound: Off" button that pops up at the top left of the screen. It should be green, and say "Original Sound: On" after clicking. That is the correct setting. Every time you log into a lesson, make sure that it says "Original Sound: On." If it doesn't, just click it and it should change back to "Original Sound: On." 
Here's how that button looks for me when it's on the correct setting (top left):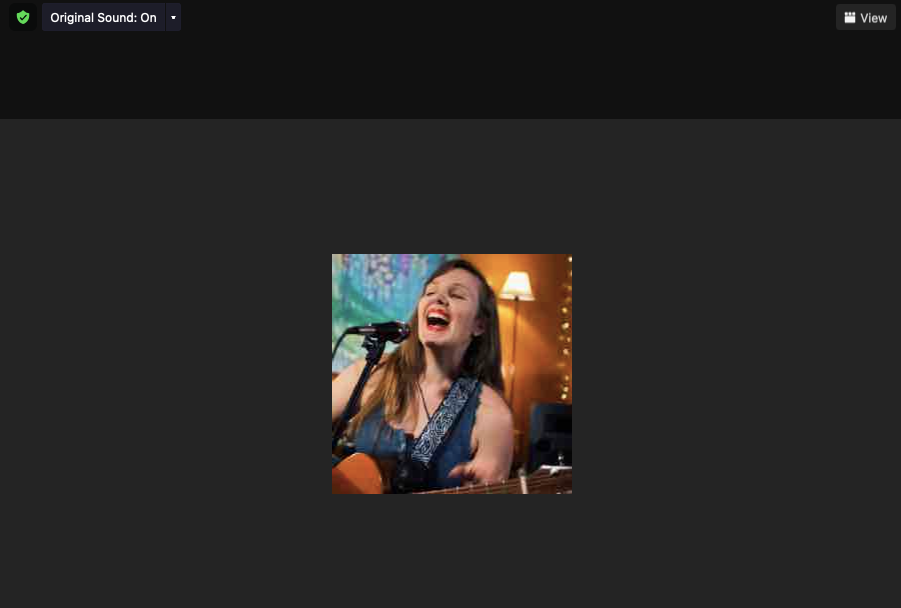 Do I have to adjust my settings every time we log in?
Nope! The general audio settings will stay the same - the only thing you'll need to do is click that "Original Sound: Off" button in the top left during the lesson. 
Will these settings make other Zoom meetings difficult?
Nope! You don't have to enable original sound for any other meetings, so background noise and loud noises will still be automatically adjusted, as long as you haven't checked the original sound box.  
Got more questions? Just send me a note! Zoom lessons are definitely here to stay, and I want to ensure all my students have a great learning experience, whether in person or online!