I now offer online lessons for students in any location, as well as in-person students who may have weather- or illness-related cancellations. This allows us to keep progressing with music, even when the climate or immune systems don't want to cooperate! So what do you need for a successful online lesson?
Computer/Tablet Access
While we could technically do a lesson with an iPhone, it's much better to use a tablet or laptop computer with a camera/videoconferencing capabilities. A phone screen is very small and although I'll be able to see you, you may have trouble seeing me!
Good Camera Angle
My "virtual studio" setup includes a laptop (so I can adjust the camera angle) sitting on a bookshelf to the side of my piano. This way, students can see my hands on the keyboard, and can also see me (it's no fun trying to learn from a headless pair of hands!). An angle like this is ideal: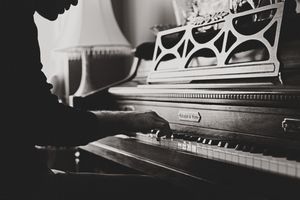 Videoconferencing Platform 
I primarily use Zoom for the best connectivity and the ability to dial in sound settings for music! 
Books/Sheet Music
It's important that we both have a copy of whatever you're working on. I keep a copy of all instruction books in my home studio, but if we are working on a specific song or piece of music that's not in a lesson book, I may need you to snap a photo and send it over to me prior to the lesson. It can be quite difficult to try to read notation over a webcam! 
Putting It All Together
At your usual lesson time (or another agreed-upon time), I'll call you via whichever platform you choose. Please let me know the correct contact information ahead of time if it's different than your usual number! Once the cameras and sound are connected, we can get right to work. Online lessons are fun and flexible, and I also offer short-notice lessons if you'd like a brush up between your regularly scheduled lessons. 
Payment for online lessons can be done via Paypal, Venmo, check in the mail, or via invoice from Square. If we have regularly scheduled online lessons, they are prepaid. Brush up or a la carte lessons are pay as you go. 
I look forward to joining you on your musical journey!